Upcoming Golf Group Getaways
Organized by VibeGetaways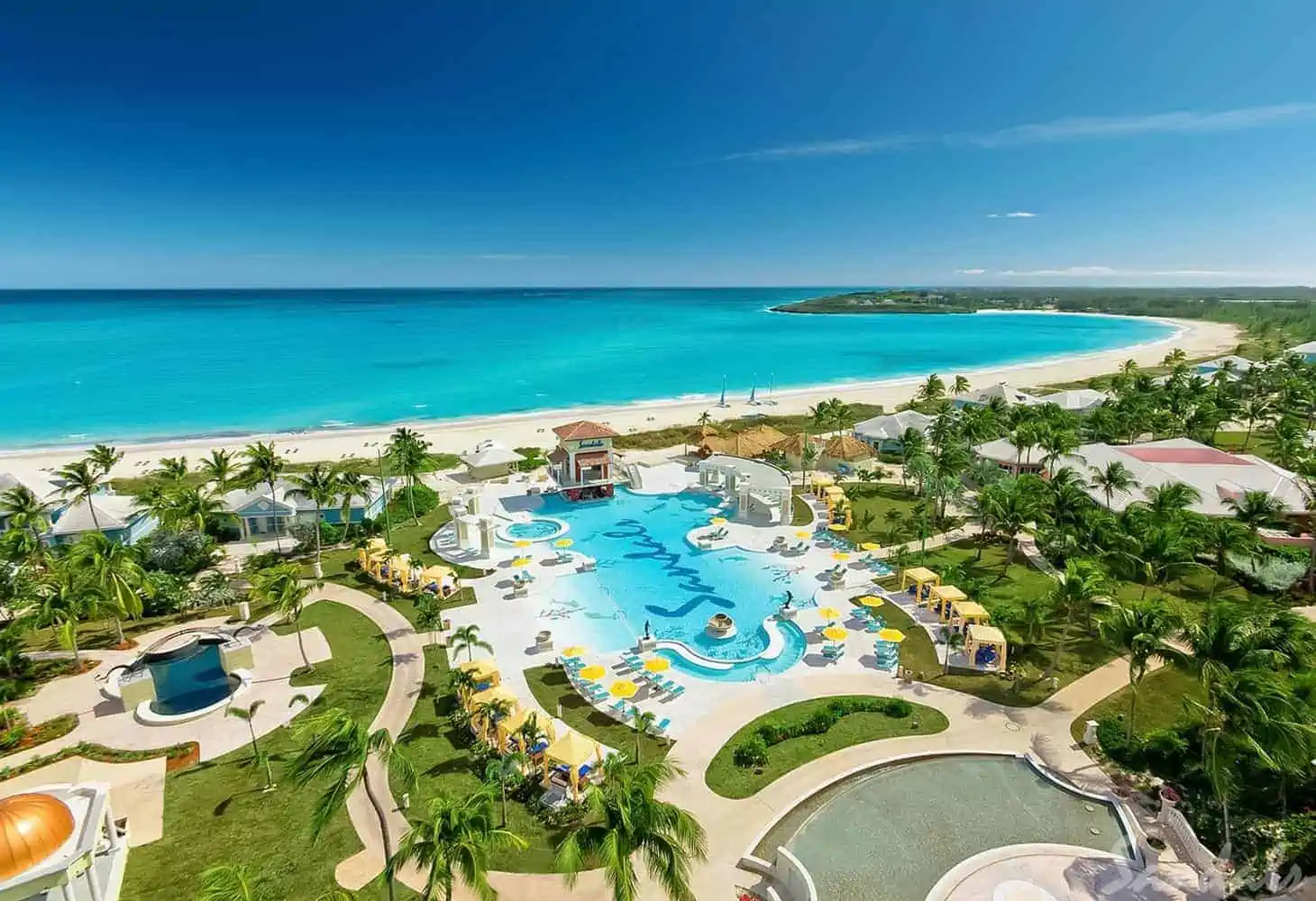 10/07/2023 - 10/13/2023
6 nights
As low as
$6208 for 2 adults
Adults-Only
5-Star Golf Vacation Planning
Joan
★★★★★
Jennifer Houle was fantastic! She helped plan every detail of our honeymoon at Sandals Barbados! Thank you Jennifer for everything! It was perfect!Joan & Tommy D.
Sarah B.
★★★★★
Jennifer was so essential in helping us plan our honeymoon. This was our first big trip together and we had the best time ever. We didn't know where to start when booking and Jennifer answered all our questions and then some, from the day we messaged her until the week after our trip she's been there for us every step of the way! I am so glad we used this service to take the stress off our shoulders of how to plan our honeymoon!
Angelica De R.
★★★★★
We worked with Denise to plan our honeymoon at Sandals Montego Bay. Denise went above and beyond to answer all of our many questions as this was our first time out of the country. She was very knowledgeable and was a true delight to work with. We have just reached out to her to book our next vacation and will do so for every trip!
Alex M.
★★★★★
We cannot recommend VibeGetaways enough! Booking our first Sandals Vacation seemed daunting and overwhelming, and Beth made it so easy and seamless! She gave us recommendations on which resorts we would enjoy. We went to Sandals Dunn's River and it did not disappoint! Beth made the whole process easy, she kept an eye on our reservation and got us a refund when Sandals had a sale, and even helped us on a Sunday when our travel got delayed. You cannot go wrong with Beth and VibeGetaways, we even booked our second trip with them already!
Ashley G.
★★★★★
Pauline is always amazing! Always answers any questions I may have with urgency and explains everything very well!
Ashleigh L.
★★★★★
Pauline is amazing and so helpful. We had a great time in Ocho Rios. We booked another vacation and Pauline is also assisting with that one. We are thankful and look forward to another amazing trip ❤️
Eddie Glover I.
★★★★★
Best time ever!! THANKS DENISE KERKHOFF!!😁
Sharon H.
★★★★★
I planned a destination wedding at sandals ochi in December 2019 and worked with Trish Anderson. I was reminiscing recently and am compelled to provide feedback which i should have done a while ago. I vetted out multiple companies and was paired with Trish after submitting a weddingvibe inquiry. The moment I talked with her I knew I could not plan a wedding without her partnership. Throughout the entire experience Trish was amazing going above and beyond not just for me but everyone in my party -- and we ended up having over 60 guests! She helped with every detail down to the location and helped get the resort and those in my party get everything they need and more. I would have been lost without her. To this day my family and friends still talk about how friendly, knowledgeable, responsive and accommodating she was. I recommend Trish anytime I hear someone is in need of a travel agent and hope to work with her again in the near future. Thank you Trish for making my wedding one of the best weeks of my life
Amanda T.
★★★★★
We used Beth Wisowaty for the first time in 2017. She helped my husband & I book our honeymoon at La Toc in St. Lucia. Obviously, with sandals there are so many options & after telling her our expectations & what we were looking for, La Toc was her recommendation. It was absolutely perfect. All the way from the resort, the food, the room, the view & excursions. We even took advantage of visiting one of the other resorts & spent the day with a butler & cabana at the Grande. We rebooked for Bahamas, but unfortunately ended up having to cancel due to situations going on at the time. When we were ready to book another trip, we reached out to Beth again to help us plan the next perfect vacation. She recommended Dunn's River in Ocho Rios, Jamaica. Honestly, Jamaica was never a place that I thought I'd ever want to visit. I'd always heard negative things. Since I trust Beth with her knowledge & experience of these places, we booked Dunn's River for July of 23. Not only was the resort absolutely beautiful, but it exceeded my expectations. On top of that, what really made this trip for us was the people. The Jamaican's are SO friendly, personable, engaging, relational & so fun. We felt absolutely welcomed & sought after. We met so many incredible employees that truly went out of their way to make us feel special. We usually like to visit other places, but we ended up booking Jamaica again, just at a different resort. Beth is amazing at her job, attentive to her clients, gets back to you promptly with any information or questions & follows up with you during the duration of your trip to make sure everything is good. As long as she's with Sandals, we will use her every time!!
Rose C.
★★★★☆
Lisa Wolters from VibeGetaways, was amazing! She was helpful and responsive throughout the planning process, all the way up to days before boarding for our trip. I would definitely recommend her to anyone looking for the perfect getaway, no matter the occasion. We have also requested her assistance for our next trip! We give her 5 stars!Not sure how to give 3 1/2 stars but that would be our rating for the experience at the resort. Upon arriving to Sandals (Antigua and Barbuda), we were warmly greeted with friendly staff and welcome drinks. Unfortunately, they forgot that we were newlyweds and it delayed our breakfast in bed and room surprise. I think we expected a little more when it came to the food and music selections. They weren't very many of either and it was a little off putting. When you go to a Caribbean Island, you expect to experience more of the island feel (music, food, experiences) and we just didn't get that. It was a beautiful island and the staff were amazing! We encountered so many nice people (Celia-bartender, Latoya @ Mario's, Raquel, Shemika Harvey @Loyalty & Travel, Ellisa, Dencia, Temisha, Tequan, Anderson, Chelsea, Keisha, Asheem, Teiquan, Selina, Vorna, Je'nai, Jermaine, Yaira, Desrica, Shantel, Latoya, and Bradley) it's almost impossible to name them all. Although, Antigua and Barbuda are not on our return list, we rebooked for a Sandals getaway to Barbados.
Micah W.
★★★★★
I have absolutely loved having Jennifer Houle as our travel lady!! She has taken good care of us!!!!
Tony J.
★★★★★
This is my second time going through Vibegetaways for my resort trip. They are wonderful!!! I worked with Beth and she is amazing. She was there for everything I needed. Very professional and helpful available anytime of the day. I will be booking with her again soon.
Tyler M.
★★★★★
By far the best experience I've had with a travel agency. Beth has done an amazing job and we will always reach out to Vibe Getaways when booking Sandals or Beaches vacation!
Brooke D.
★★★★★
Jen was awesome! She was there every step of the way for a year planning our destination wedding 🏝️🥂💕 anytime I had a question, she was there to answer. I can't even imagine trying to plan this on our own lol we were clueless and she was super helpful. I panicked a fewtimes at the end and she assured me it would all work out and it did 🥰 Our Weddingmoon was the best week ever! Thank you so much! 🏝️☀️🇯🇲🥂💕💍
Arianna D.
★★★★★
Beth was AMAZING to work with! She was a huge help making adjustments to our Sandals reservations, helping us find the best sales/deals, booking our excursion, and also responded to our emails promptly. She made the whole planning and travel process totally worth it, and we look forward to working with her again for our next trip!
What's Included
Unlimited Fine Dining at all Restaurants
Unlimited Premium Brand Drinks at all Resort Bars
Unlimited Land and Water Sports (Scuba Diving, Glass Bottom Boat, Water Skiing, Paddle Boarding, Kayaking, Snorkeling, and More!)
Nightly Entertainment
Airport Transfers
In-Room Stocked Fridge with Beer, Wine, Soda, and Juices
Group Mixer Events
Tee times reserved for you
Feel free to partake in as much or as little as you'd like to. There is no obligation to join scheduled group events but it is a fun way to meet others with the same common interest.
What you can expect from our Group Golf Vacation
Reserved Tee Times, Scramble, Best Ball
Open Play, Fun!
Delicious gourmet meals & premium drinks
A fun all-inclusive resort and island to explore
A time to have fun and unwind
Social Mixer Events
Create unforgettable memories
Prefer to book your own Golf Getaway instead?
Booking Online
vs.

Benefits
Book Online
Book with
VibeGetaways
Lowest price available
No booking fees
Personalized one-on-one service until the day you arrive back home
Help and tips from a professional that has traveled to the resorts
Peace of mind knowing all the details are taken care of
Easily make changes to your booking dates, room type, or resorts
Resort managers will be notified VIP guests are arriving
Call, email, or text your agent at any time
Payments made to Sandals directly
Hold room with no money down
Personalized help booking airfare & excursions
Personalized help if there are issues: missed flight, health issue, extreme weather, etc.
Price watch guarantee: if price goes down after you book we will get you the better price