Why Choose a Sandals Resort or Beaches Resort for your Destination Wedding 
Imagine saying "I Do" on a gorgeous white sand beach with the sound of soft gentle waves washing ashore. Or picture exchanging rings in a lush green garden surrounded by tropical scents and foliage. A destination wedding is a dream come true for many couples, and an all-inclusive resort can make that dream easily attainable. With luxurious amenities, customizable details, and an all-in-one convenience, Sandals Resorts & Beaches Resorts offer an unmatched wedding planning experience for destination weddings. Let's explore why these resorts are the ultimate destination wedding experience, from stunning settings to personalized service and activities for everyone.
Stunning Settings
Truth be told, most people love the idea of a Destination wedding simply because of the stunning setting. What's not to love about gorgeous beaches, lush tropical gardens and the most picturesque backdrops you just cannot get at home. Sandals and Beaches Resorts offer not only the convenience of having everything you need in one location but also breathtaking settings for an unforgettable wedding.
Whether it's a beachside ceremony overlooking gorgeous Rodney Bay in St. Lucia, or a garden reception by one of the European Gardens at Emerald Bay, the gorgeous landscapes within all the resorts provide a stunning backdrop for your special day. For example, if you were to plan your wedding at Sandals Montego Bay, the over water wedding chapel has an actual glass bottom aisle where you will "walk on water" to the altar! Its panoramic views will make you literally feel like you are walking on water during your special day.
There's a location for everyone at all the different resorts. At VibeGetaways, we have been to each location multiple times and can help quickly guide you to the perfect location based on what you're looking for. We have a dedicated team that handles all the wedding details!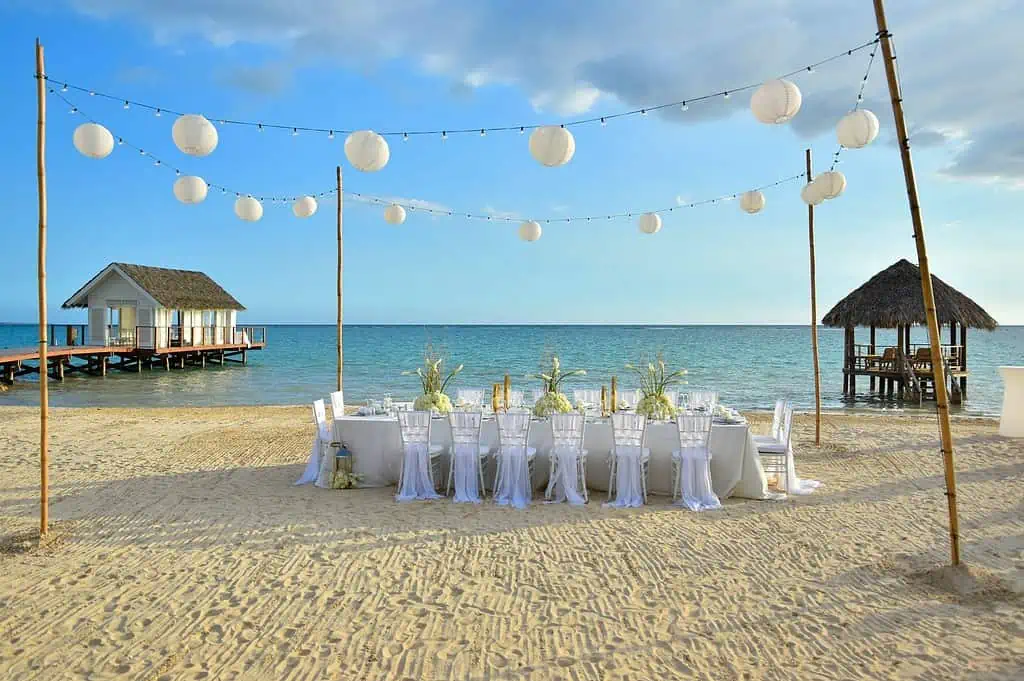 Customizable Inspirations
Sandals and Beaches Resorts pride themselves on providing the most detailed customizable inspirations for couples looking to tie the knot at any of their stunning locations. From selecting the perfect floral arrangements to deciding on the menu and accommodations for your guests, the resorts give you the flexibility and control to make your dream wedding a reality. With a variety of options, you can choose what works best for you and your partner's tastes and preferences. Additionally, for every wedding, no matter how large or small, VibeGetaways and Sandals & Beaches Resorts offer the most experienced and knowledgeable wedding planners and coordinators to help ensure that every detail is taken care of. Allowing you to relax and enjoy your special day. Check out this handy feature! You can mock up what you'd like for your wedding and see the cost associated with your wish list!
Personalized Service
All-inclusive resorts are known for their exceptional service and dedication to making sure their guests have a memorable and stress-free vacation experience. When it comes to destination weddings, those same principles apply, but with an added layer of personalization. Sandals Resorts understand that every couple is unique, and they strive to tailor their services accordingly. From the moment you book your wedding with VibeGetaways, we will work closely with you to create a customized experience that reflects your vision and style. Whether it's arranging for a special song to be played during the ceremony or incorporating cultural traditions into the reception, the whole team goes above and beyond to make your wedding day truly unforgettable. Read the reviews from VibeGetaways' clients. 
Activities for Everyone
Whether you're looking for an active and adventure-filled week before your wedding or a more relaxing and pampered few days after you tie the knot, Sandals & Beaches Resorts offer a range of activities and amenities designed to cater to your interests and preferences. And the best part? Everything is included in your package! From snorkeling and kayaking, to picking out your flowers and wedding location, planning your destination wedding with one of our Travel Agents, will be the easiest "yes" you can say (aside from when your partner proposed!).
But it's not just about the activities. With the convenience and ease of having it all in one location, your family and friends will have so many options to make the most out of your destination wedding, without you having to entertain them. Guests don't have to worry about transportation or making reservations at multiple locations as it's all in one place and the resort does all the work for you! Our award winning agents will take care of all the pre-planning! From large groups flying out of multiple airports, to just you and your partner, our agents are masters at planning all the details, so you, friends and family, can sit back, relax, and enjoy your big day!
Without a doubt, Sandals and Beaches all-inclusive resorts are the ultimate destination wedding experience. With stunning settings, customizable packages, personalized service, activities for everyone, and all-in-one convenience, Sandals truly offers it all. So, if you're planning a destination wedding, VibeGetaways will help you plan a seamless and unforgettable wedding experience.
"The best love is the kind that awakens the soul and makes us reach for more, that plants a fire in our hearts and brings peace to our minds." – Nicholas Sparks.
We are Sandals & Beaches Resorts Travel Experts, and our services are complimentary to you. Message us on Facebook, or visit us at VibeGetaways. We'd love to help you plan your next getaway!
If you want to stay up to date and get a behind the scenes look at our travels – you can follow our YouTube Channel, Facebook Page, or Instagram
Written By: Katie Daniels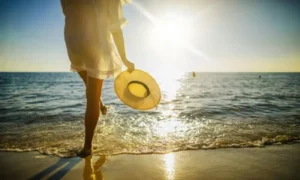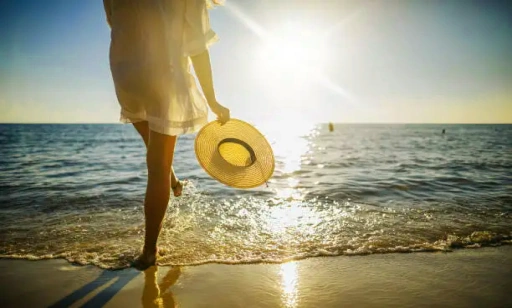 What if I told you that every sandy grain of your next family vacation could be filled with sun, surf,…
Read More