Top Tips for Choosing the Right Accommodation for a Vacation Beach House
When you're lying on the sand, the sun on your skin, and the sea breeze in your hair – there's nothing quite like the charm of a beach vacation. But what if you could amplify that charm tenfold by landing the beach house of your dreams? Finding the right vacation rental can turn an already great beach getaway into a heavenly escape.
This is your blueprint for choosing the perfect beach house vacation rental; think of it as your treasure map leading you to that elusive X marking the best beach house just for you. Let's set sail and embark on this shore-side adventure together!
Evaluating Beach House Locations
When it comes to choosing the perfect beach house vacation rental, location is everything. True beachfront properties might be more convenient but can come with a hefty price tag. Therefore, it's essential to consider options located a few streets away or a short drive from the beach. Additionally, choosing a location that is suitable for your group's mobility and accessibility needs is crucial.

For instance, if you're traveling with seniors or young children, properties that require climbing several stairs might not be the best fit. Instead, look for single-story houses that are more accessible and safer for all members of your vacation group.

Another important factor to evaluate when choosing a beach house location is nearby attractions and amenities.

Are you looking for an ocean view? Or maybe you prefer some nightlife entertainment close by? Consider your preferences when selecting a rental property. If relaxation and tranquillity are what you seek, opt for a secluded property in a quiet neighbourhood.

However, some families might want to be closer to restaurants, grocery stores or other local stores for added convenience.

Speaking of proximity to attractions and amenities, let's dive into this topic a bit more.
Proximity to Attractions and Amenities
When evaluating potential rental properties' locations, consider how close they are to nearby attractions and amenities. Proximity can play an essential role in the total cost of your trip and influence your overall experience. But how do you choose the right balance between being close to everything versus having peace and quiet?

Make sure the rental property is in a location that caters to your group's interests and needs. Consider what you might want to do during your stay, such as surfing, fishing, hiking or lounging on the beach.

If you're bringing young children, choose a location that is near family-friendly activities like miniature golf or amusement parks. On the other hand, if you're an adventure seeker looking for some excitement, make sure you pick a spot near water sports centres or hiking trails.

That said, it's essential to factor in proximity to grocery stores, restaurants, and drugstores while choosing where to rent.

Suppose you're staying at a secluded rental property far from amenities and don't have your transportation means. In that case, getting access to necessities might prove challenging and costly.

With these factors in mind when evaluating beach house locations and proximity to attractions and amenities are essential when selecting the perfect vacation rental.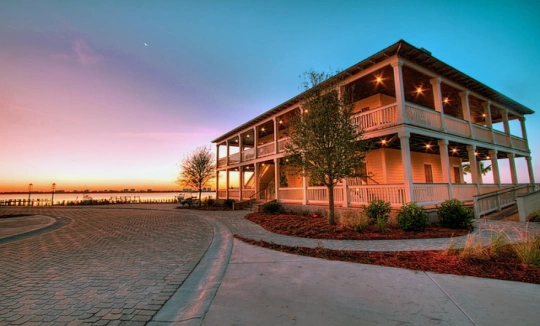 Cost Analysis of Various Options
When planning a beach house vacation, cost is one of the most crucial factors to consider. Beachfront houses are often more expensive compared to those located a few streets or a short drive away from the beach. Therefore, it's essential to identify your budget and stick to it while searching for the perfect rental.

One approach to save money on your rental is to look for off-season options because prices tend to be lower during this period. Additionally, it would help if you looked at different rental websites since many owners list their properties on multiple platforms at different prices. You could compare the prices on each site to determine which one offers the best deal.

Another factor to consider when evaluating cost is the size of your group. If you're traveling with a large group, consider renting a larger property instead of booking multiple smaller ones since this might turn out cheaper. Besides that, some rentals offer discounts on longer stays, so you could take advantage of such offers if applicable.
Understanding Accommodation Amenities
Amenities play a vital role in choosing the perfect beach house rental. One thing to consider is whether the property is suitable for your family's needs and comfort level. If you're traveling with kids, check if kid-friendly amenities like indoor games or outdoor playgrounds are available. Rooms must also be comfortable and adequately furnished for everyone.

Besides that, check whether the rental has thoughtful touches that make living there more enjoyable while still feeling at home. For example, an outdoor shower and storage spots for wet towels and swimsuits are essential in a beach house rental. Other amenities like air conditioning, cable TV, Wi-Fi, and laundry facilities should also be present to ensure maximum comfort.

When it comes to selecting the ideal beach house rental, you should factor in the proximity of a pool and other alternative activities. Pools are great for a refreshing swim away from the ocean waves or nighttime entertainment opportunities, while outdoor spaces like barbecue grills provide a chance for bonding with family or friends.

When choosing the perfect beach house vacation rental, cost analysis is crucial to stick to your budget while still having a great time. Besides that, considering various accommodation amenities will ensure your family's needs and comfort during the stay. By following these tips and doing appropriate research beforehand, you can find an excellent beach house that ticks all your boxes for the best vacation experience.
Suitability for Family Needs and Comfort
When selecting a beach house vacation rental, it's important to consider the needs of your family. Look for features that will make your stay more comfortable and convenient. For example, if you have young children, opting for a place with child-proofed areas can keep both the kids and parents happy. Some rentals even offer cribs, high chairs, and other essentials for little ones.

Another factor to consider is the number of bedrooms and bathrooms available. If you're traveling with extended family or friends, choosing a rental that accommodates everyone comfortably is a must. It's also essential to select a property that provides enough space for all activities, such as dining together or watching movies.

For families that love cooking their meals, selecting a beach house with a well-equipped kitchen can enhance your overall holiday experience. Eating out at restaurants every day can also add up quickly while cooking your meals can be a fun bonding activity.

Comfort and convenience should be top priorities when selecting vacation rentals for families with special needs or elderly members. Rentals accommodating people with disabilities may include wheelchair ramps and showers equipped with grab bars or rails for extra support.

Some travelers assume that hotel rooms are cheaper than beach house rentals; however, this isn't always the case when it comes to larger groups, such as families with children. Renting multiple adjoining rooms may turn out to be pricey compared to renting an entire house designed for occupancy by an extended family. Beach vacation rentals provide more privacy, space, and flexibility compared to cramped hotel rooms.
Navigating Rental Agreements and Policies
Before signing a rental agreement, make sure you understand all the terms, conditions, and policies that come with it. The text may appear long and tedious, but it includes vital information. Be careful not to overlook these details, as they affect your stay.

Rental agreements also stipulate specifics of each party's responsibilities regarding housekeeping during a stay, pet expenses (if allowed), damages, and repair charges, among others.

Some people may want to avoid talking directly with the property owner and use booking websites. While many websites provide fantastic deals, remember that there is a commission on sales they take that could potentially make your booking more expensive than if you contacted the homeowner directly.
Importance of Cancellation Policy and Insurance
When planning a vacation, it's important to review rental agreements and policies to make sure you understand the terms and conditions. Many beach house vacation rentals require deposits or upfront payments to secure the reservation. These agreements will include payment schedules, security deposits, cleaning fees, and cancellation policies.

Cancellation policies are especially important to consider when booking a vacation rental. While it may be tempting to bypass this part in the fine print, avoiding it can cost you significant penalties later on if you decide to cancel at any point. Inquire about the property owner's rules, as some owners are flexible with their policies.
Some policies may offer a full refund if the reservation is canceled within a certain timeframe, while others may only provide a partial refund or no refund at all. It's essential to read the fine print before making any payments, as some rental agreements may not allow cancellation under certain circumstances, such as acts of nature or force majeure.

Another important feature to review would be insurance options. Investigate whether travel insurance covers items such as trip cancellations or interruptions due to weather or other unforeseeable reasons. Check what coverage they have if you need medical attention while away from home.

Like any insurance policy, travel insurance can be beneficial when renting a vacation property. It can protect you from financial loss if unforeseen events such as illness or accidents occur prior to or during your stay. However, keep in mind that not all travel insurance policies cover cancellations due to acts of God or natural disasters such as hurricanes, so it's important to review each policy carefully.
Selecting the Ideal Beach House Property
When browsing for the perfect beach house vacation rental, there are several factors one must take into consideration. The first thing to consider is the location of the property. A beach house close to the ocean may be convenient, but it could also be costly. A beach house a few blocks or a short drive away from the water could be more affordable and may offer other amenities, such as a swimming pool.

Additionally, it is essential to take note of the number of guests you have and how many rooms you require, along with sleeping arrangements. Renters need to be comfortable with each other because sharing common areas can cause conflicts in some cases. Guests should consider if they need separate beds in each room or if anyone has special needs, like back issues, that require special bedding.
Research and Inspecting Your Potential Rental
Now that you have evaluated the location understood the accommodation amenities, and navigated rental agreements and policies, it's time to choose your ideal beach house vacation rental. However, before you make your final decision, there are a few more steps to take, – researching and inspecting your potential rental.

Research is essential when it comes to choosing a beach house vacation rental. Start by reading reviews from previous renters on various platforms like TripAdvisor, Yelp, or the rental property website. You can also search for photos of the rental both inside and outside to get a better idea of its condition. Look for details like whether there are enough towels provided, how well-stocked the kitchen is, or if the advertised amenities match reality.

As much as research can be helpful in finding your perfect beach vacation rental, verifying whether what you see in pictures is what you will get requires visiting or contacting the owner or property management company. Contacting them will enable you to learn more about any maintenance or construction work currently ongoing on the property that might affect your stay. Having all these details will enable you to determine whether the rental property meets your needs.

It's essential to view multiple properties and compare different options before making a reservation. Think of yourself as a detective on a mission to find the best possible place to enjoy a relaxing vacation experience. Approach this with open-mindedness and explore multiple options with an eye for detail.

Some people prefer working with third-party booking agents because they offer one-stop-shop services at discounted rates as compared to booking directly with owners or property management companies, who may have varying prices for different seasons. Others argue that working directly with owners or management companies may be better as it provides more information about potential discounts and other perks.

In conclusion, take some time to research and inspect thoroughly before committing to a beach house vacation rental. Utilize various platforms and resources to gather information about the property, and do not hesitate to contact the owner or management company. With careful consideration, you'll be sure to find the perfect beach house vacation rental for your needs, providing an unforgettable experience for you and your loved ones.
At Vibe Getaways, we believe that finding the ideal beach home is critical to having a wonderful holiday. Our 'Top Tips for Choosing the Right Accommodation for a Vacation Beach House' guide will help you make the correct decision. We can help you find the ideal coastal hideaway. Contact (262) 891-4768 to begin organizing your beach vacation now.
As you set your sights on the perfect beach getaway, let Vibe Getaways be your trusted guide. Our curated selection of vacation beach houses ensures your escape is nothing short of extraordinary. From evaluating prime locations to considering family needs and budgets, we've got you covered. Don't miss out on the charm of a beach vacation amplified by the ideal rental. Visit our website today and embark on a shore-side adventure tailored just for you. Your dream beach house is waiting. Let's make it a reality together!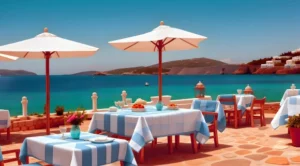 Imagine salty air tickling your senses, waves softly kissing the shoreline, and a sizzling dish prepared from just-caught seafood paired…
Read More