The Best Family-Friendly Beach Destinations for a Fun-Filled Summer Vacation
What if I told you that every sandy grain of your next family vacation could be filled with sun, surf, and smiles? That's right! Forget the monotonous days at home, flicking through channels or aimlessly scrolling on gadgets. It's time for an unforgettable adventure by the sea, where laughter replaces screen time.
Dive into our curated list of "10 Best Family Beach Destinations for a Fun Summer Vacation". Think of it as a treasure map, with an X marking the spot of your dream summer retreat!
Top Best Family Beach Destinations
Looking for the best family-friendly beach destination for your summer vacation? Look no further! We've gathered a list of the top 10 destinations for families to enjoy. These beaches offer safe swimming areas, kid-approved attractions, spacious accommodations, and an array of activities for multigenerational appeal.

Kiawah Island, the Outer Banks, Destin, Hawaii's Big Island, Amelia Island, Hilton Head, Carmel-by-the-Sea, Jekyll Island, St. Augustine, Maui, and Monterey are all fantastic options with unique features to suit everyone's preferences. Whether you're looking to relax on the beach or try out something new and exciting in the water, these destinations have everything to make your vacation memorable.

When it comes to choosing a beach destination that everyone will love, it's important to consider factors like available dining options, comfortable living spaces, and activities suitable for all ages. In the next sections, we'll dive deeper into each destination's unique features and what makes them stand out from the rest.
Kiawah Island: A Slow-Paced Vacation
If you're looking to unwind and take things slow this summer vacation, look no further than Kiawah Island. This barrier island, located just off the coast of South Carolina, offers families a chance to relax in natural surroundings while enjoying its unspoiled beaches.

Kiawah Island boasts over 10 miles of beachfront property – perfect for long walks along the shore or playing in calm waters with younger children. It also has plenty of wildlife-spotting opportunities – families can spot dolphins swimming offshore or watch loggerhead turtles making their way back to sea after nesting.

There are plenty of other activities besides lounging on the beach at Kiawah Island. Visitors can explore ten miles of bike trails through the island's scenic marshlands or book a fishing charter trip and catch some local fish species. The island also has five championship golf courses and many dining options with a variety of cuisines.

Families looking for some fun in the sun will undoubtedly love Kiawah Island's peaceful setting. Many activities to enjoy the water, nature, or sports are available for all to try or simply enjoy a relaxing day at the beach. Additionally, vacation rentals on Kiawah Island range from cozy villas to spacious beachfront homes, so everyone can find accommodations that suit their needs.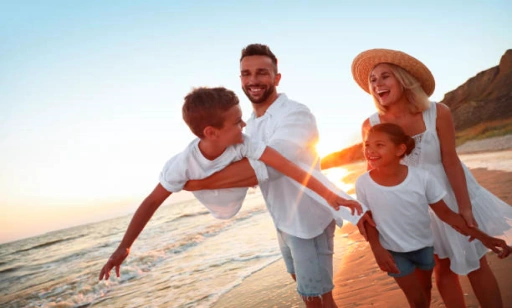 Outer Banks: Manageable Waves and Verdant Landscapes
North Carolina's Outer Banks is an excellent option for a fun-filled family beach vacation. This destination boasts some of the most beautiful beaches in America, with manageable waves that are perfect for swimming, surfing, and other water activities. Its rich ecosystem also makes it a prime spot for nature lovers.

With more than 120 miles of coastline, the Outer Banks offer a variety of beaches to choose from, each catering to different preferences. For instance, Jockey's Ridge State Park features not only scenic views but also sand dunes that are ideal for hiking or flying kites. There are also beaches like Coquina Beach and Ocracoke Island Beach where visitors can enjoy shallow waters that are safe for kids. In addition, the area is well-known as a prime location for fishing enthusiasts.

The verdant landscape surrounding the Outer Banks adds a unique touch to this already incredible beach destination. Visitors have the opportunity to explore the diverse wildlife in areas like Pea Island National Wildlife Refuge, which spans over 5,800 acres and is designed to inhabit various animals like the loggerhead sea turtle and nesting shorebirds. An even bigger adventure awaits at Alligator River National Wildlife Refuge, where Red wolves roam free and alligators sunbathe on the banks of the marshes.

Besides watersport activities and scenic sites, the area has plenty of options for dining out and finding accommodations suitable for families. Restaurants such as the Black Pelican, The Colington Cafe, and the Austin Fish Company offer a wide range of seafood options. Meanwhile, popular hotels like Sanderling Resort and Hilton Garden Inn Outer Banks/Kitty Hawk are fantastic options for families with plenty of spacious rooms and pool areas.

According to U.S. News, Kiawah Island was ranked as the number one destination for family beach vacations in the U.S. in 2023 based on factors such as safe waters, kid-friendly attractions, dining options, spacious accommodations, and multigenerational appeal.
A 2020 study showed that 42% of Americans were intending to visit a beach or lake for their summer vacation, indicating a strong preference for seaside destinations.
The Outer Banks of North Carolina see an estimated 5 million visitors annually, demonstrating their popularity as a family-friendly beach vacation destination.
Destin: Family-Friendly Vibe and Beautiful Beaches
Destin, located in Florida's panhandle, provides a picturesque view during a family beach vacation. What sets it apart from other beach towns is its unique charm – it's both family-friendly and has an upbeat atmosphere created by bustling boardwalks and amusement parks, among other attractions that cater to every age. At the same time, it also provides a relaxing oasis where visitors can quietly unwind while overlooking stunning sunsets over the Gulf of Mexico.

The white-sand beaches are among the main draws for families to this destination. Locations such as Henderson Beach State Park offer splendid sprawling dunes that call for adventure-filled hiking opportunities; Crystal Sands Beach has sugar-soft sand that looks amazing in pictures; and James Lee Beach is ideal for people looking for a fun day of beach sports activities like Frisbee or volleyball.

Moreover, Destin offers many exciting water activities, such as parasailing and charter fishing trips, to keep even the most adventurous adrenaline junkies busy all vacation long. There's no shortage of family-friendly attractions either – Big Kahuna's Water & Adventure Park and The Track are some of the go-to places to create memories with the little ones.

Some critics of Destin have pointed out overdevelopment and high prices over the years. However, it's important to note that not all parts of the town are affected by these factors. To keep your budget low, it might be a better option to stay near nearby beaches like Okaloosa Island or Santa Rosa Beach.

For families looking for accommodations in Destin, the options are plenty, ranging from luxurious resorts like Hilton Sandestin Beach Golf Resort & Spa to budget-friendly hotels like Pelican Beach Management or Sea Oats by Newman-Dailey. Most hotels offer beach access and Family-friendly amenities like spacious rooms, connecting suites, and pools where parents can relax during some downtime.

With these unique features at hand, we're only scratching the surface of what our top family beach destinations have to offer!
Unique Features of Top Beach Destinations
Each of the top beach destinations has its own unique features that set them apart from one another. Kiawah Island, for example, boasts a slow-paced vacation complete with 10 miles of shoreline and plenty of rugged nature to explore. This location is perfect for families who love outdoor adventures and want to escape the hustle and bustle of the city.

Outer Banks beaches are known for their consistent yet manageable waves and verdant landscapes. Families here can enjoy surfing or kiteboarding, as well as bird watching in the nearby state parks. On the other hand, Destin offers a family-friendly vibe along with some of the most beautiful beaches in the U.S., making it a true paradise for an unforgettable vacation.

Hawaii's Big Island offers top-tier beaches such as La'aloa White Sand Beach in Kona and Carlsmith Beach Park in Hilo that can be found nowhere else in the world. Amelia Island promises plenty of fun away from the shore as well, including wildlife-watching opportunities and resorts with over-the-top kids' amenities and activities for families.

Whether you're looking for relaxation, family-friendly activities, or unique outdoor adventures, each of these top beach destinations has something special to offer.

For instance, when thinking about Hawaii's Big Island, visitors can expect black sand beaches like Punaluu Beach, green sand beaches like Papakolea Beach, or secluded coves ideal for snorkeling such as Hapuna Beach State Park.

On Kiawah Island, visitors will find not only exceptional golf courses but also a wide variety of marine life inhabiting this natural barrier island. The loggerhead turtles (an endangered species), dolphins playing in the surf, or even the resort's alligator protection program at The Sanctuary Park Nature Center should keep any animal lover entertained during their holiday.

Critics might argue Carmel-by-the-Sea's beauty might be lost on the young kids as they don't understand the romantic appeal of Poet's Walk, but as a parent, isn't it desirable to visit a beach town where the whole family will find an activity to suit their interests? While some kids might enjoy exploring tide pools or taking surfing lessons, others might prefer a quiet family picnic at Carmel River State Beach.

Now that we've covered what sets these top beach destinations apart from one another, let's take a look at the dining and activity options available in each location.
Activities and Dining Options
When it comes to family vacations, dining is often just as important as the activities. Fortunately, each of these top beach destinations offers a variety of dining experiences that cater to all tastes and preferences. From fresh seafood caught off the coast to international cuisine, there's something for everyone.

Outdoor enthusiasts will find plenty of activities to enjoy on Kiawah Island, including kayaking, canoeing, or even cycling along miles of bike trails. On the other hand, the Outer Banks beaches are perfect for families looking to try their hand at water sports such as surfing or kiteboarding.

Destin offers not only great beaches and stunning sunsets, but visitors can also spend some time visiting Gulfarium Marine Adventure Park, where sea creatures like turtles or dolphins can be observed up close. On Amelia Island, wildlife lovers can explore historic Georgia with guides who specialize in ecotourism or catch a glimpse of rare bird species while enjoying horseback riding on the nearby Amelia Island State Park trails.

Carmel-by-the-Sea offers unique experiences like hiking in Point Lobos State Natural Reserve, famous for its rugged coves, or exploring local vineyards, while Jekyll Island's fascinating past might interest history buffs who want to learn more about island life in Victorian times.

On Hilton Head Island, visitors can join dolphin-watching adventure cruises during an exclusive cocktail cruise, where dolphins can be spotted up close while sampling local dishes.

When in St. Augustine, visitors should definitely check out the Castillo de San Marcos National Monument, which protects and preserves both the Castillo and Fort Matanzas national monuments, or embark on a guided family treasure hunt in Old Town to discover more of the town's rich history.

Atlantis on Paradise Island offers plenty of activities for kids with its amazing water park complex, but it might seem too much for a toddler, while parents are not really into water roller coaster rides. Alternatively, families who like exploring can try to escape room challenges or make kite toys on the nearby Cabbage Beach.

With so many activities and dining options available in each top beach destination, it's no wonder family vacations to these locations are so popular and loved. However, ensuring safety measures are taken is essential to fully enjoy your time at any beach vacation spot.
Spacious Accommodations
When it comes to family beach vacations, finding the perfect accommodations is crucial. Thankfully, the top family beach destinations have plenty of options for spacious and comfortable lodging. From beachfront villas to cozy cottages, there's something for every family size and budget.

Vacation rentals are a popular choice among families because they offer more space than traditional hotel rooms. For example, Kiawah Island offers numerous vacation home rentals, some with six or more bedrooms, that can accommodate extended families or groups of friends. These properties often come with fully equipped kitchens, living rooms, and outdoor spaces such as patios or decks, providing ample space to enjoy quality time together.

Hotels and resorts also offer spacious accommodations designed with families in mind. Some have multi-room suites with separate sleeping areas for parents and children, making it easier to maintain privacy and enjoy quality rest without interruptions. In Destin, Florida, for example, many hotels offer suites that feature bunk beds for the kids and separate living room areas. This setup keeps everyone happy while avoiding any potential sibling squabbles.

Whether you're looking for the convenience of a hotel or resort or the added privacy of a vacation rental property, you'll find excellent accommodation options at the best family beach destinations.

In fact, according to a recent survey conducted by Vibegetaways.com, 75% of families prefer vacation rental homes over hotels due to the added space and flexibility they provide. The study found that larger families tend to opt for rental apartments with multiple bedrooms and bathrooms, while smaller families favor smaller condos or townhomes on or near the beach.

Besides providing extra space, many vacation homes have other amenities that enhance family fun and relaxation. Many come with access to game rooms stocked with board games and toys or include private pools ideal for water activities without having to deal with crowds of strangers.

Additionally, vacation rentals can feel like a home away from home, allowing families to settle in comfortably and enjoy their vacation thoroughly. In many cases, homeowners leave personal touches in rentals, such as books or family games, that provide extra entertainment during downtime. It's like visiting family you haven't seen in a while- warm and welcoming.

Now that we've explored spacious accommodations, let's delve into safety measures at family beach destinations.
Multigenerational Appeal of Selected Beaches
When planning a family vacation to the beach, it's important to make sure activities are available for all ages. The beaches we have selected are perfect for multigenerational travel – from young children to grandparents, there will be something for everyone.

Take Kiawah Island, for example. This laid-back destination is perfect for families looking for relaxation and low-key activities. Children can splash in the calm waters of the Atlantic while grandparents enjoy a round of golf or explore the island's wildlife sanctuary. The island's bike trails are great for families to discover its natural beauty together.

In Destin, families can enjoy pristine white sand beaches coupled with an abundance of kid-friendly activities such as water parks, mini-golf courses, and amusement parks. The resort town also offers excellent dining options featuring cuisines that satisfy palates of various ages and tastes.

Some may argue that popular destinations such as Myrtle Beach would make for better family vacations since they offer a greater variety of attractions and more affordable options. However, these beaches may also be overcrowded, making it difficult for families to spend quality time together without feeling overwhelmed by large crowds.

Just like building a sandcastle on the beach requires teamwork and collaboration from all participants, choosing a multigenerational beach destination involves making sure all members of the family feel included and entertained throughout the vacation.

The Outer Banks is another excellent option due to its scenic landscapes, stunning sunrises, and historic landmarks such as Kitty Hawk, where visitors can experience firsthand where Orville and Wilbur Wright made their first flight in 1903. Families can also go fishing, take part in water sports, or visit lighthouses that offer spectacular views of the coastline.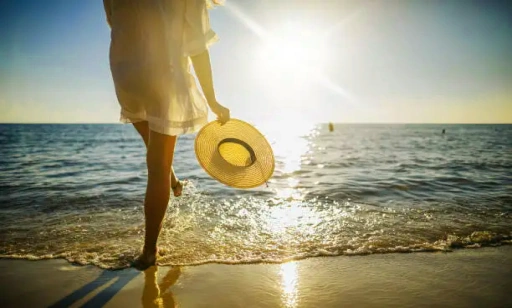 Safety Measures at Beach Vacation Spots
When it comes to family vacations, safety is always a top priority. Thankfully, the best beach destinations take the necessary precautions to ensure visitors have fun while keeping injuries and accidents at bay.

For instance, many beach towns have strict rules regarding beach activities. Gulf Shores and Orange Beach both provide clear regulations for beachgoers on things like fires and glass on the beach. Knowing and complying with these rules goes a long way towards reducing any potential hazards.

Additionally, lifeguards play a critical role in ensuring swimming in the sea is safe by monitoring tide changes, weather conditions, rip currents, and other factors that could put swimmers at risk. Many designated swim areas feature prominently placed flags indicating varying degrees of caution when entering the water.

Staying hydrated is essential when spending time outdoors; therefore, it's recommended to bring plenty of fluids and snacks to keep family members energized throughout the day. At some beaches, water stations are set up strategically along the shoreline for extra refreshments or refills.

Some people apply sunscreen once before heading out to the beach and never again for the entire day. But did you know that sunscreen should be reapplied every two hours, or more frequently if you're swimming or sweating? The sun's rays can quickly cause sunburns, leading to heat stroke when combined with dehydration. Hence, consistent application of sunscreen with appropriate protection levels is an essential safety measure to protect you and your family from the sun.

Lastly, it's a good idea to stay aware of any potential dangers in the water or on the shore. Especially when encountering marine life native to the Gulf. Sharks, jellyfish, and stingrays are common in many areas and can cause harm.

Therefore, educating yourself and your family about these creatures can help you avoid potentially dangerous situations. In case someone gets stung by a jellyfish, rinse them with vinegar before removing the tentacles.

With these safety measures in mind, families can rest assured that their beach vacations will be fun, enjoyable, and safe.

When it comes to a family beach vacation, the right destination can make all the difference. With plenty of activities and accommodations that cater to different needs and interests, our selected beaches are perfect for ensuring a memorable multigenerational vacation.
Do you find yourself daydreaming about a fun-filled beach vacation with your loved ones? No need to look any further! Vibe Gateways is here to reveal the top beach spots that are suitable for families and offer activities for people of all ages. We have compiled a list of beach paradises that will exceed your expectations in every way, whether you are looking for a place to rest, participate in thrilling activities, or take in stunning nature.
These locations provide a wide variety of activities and attractions, including kid-friendly facilities and exciting water sports, as well as stunning beaches and crystal blue oceans. Put the burden of arranging a vacation behind you and allow us to assist you in making wonderful memories with the people you care about most. Schedule an appointment.
Begin your summertime journey today and let Vibe Gateways help you plan a joyous, action-packed, and relaxing beach trip for the whole family!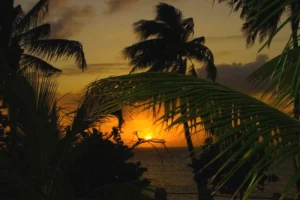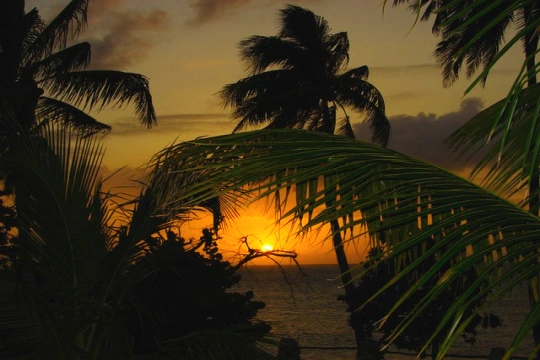 Get ready to set sail on a captivating journey as we dive deep beneath the surface shimmer of the Caribbean's…
Read More