Destinations, Travel Tips
10 Reasons to Take an All-Inclusive Vacation in the Caribbean
Ah, the Caribbean! With its crystal clear waters, white sandy beaches, and luxurious resorts, it's no wonder the Caribbean is such a popular destination for travelers. Allow us to give you 10 of the best reasons to do just that! From adventure activities and on-site amenities to affordability and convenience, there are so many huge benefits.
All-Inclusive Vacations in the Caribbean
All-inclusive vacations in the Caribbean offer travelers convenience, relaxation, and value. On an all-inclusive vacation, travelers pay one price upfront for their lodging, meals, and other activities. This allows individuals and families to estimate the cost of their trip ahead of time and make payments accordingly. Additionally, all-inclusive vacations often include access to luxurious amenities such as outstanding restaurants, spa services, and airport transfers.
On the other hand, some individuals prefer a more traditional experience when traveling where they can explore so many local attractions that an all-inclusive package wouldn't typically offer.
If you don't mind spending a little extra money in exchange for one hassle-free payment throughout your trip – then an all-inclusive vacation might be right for you. For those seeking rest, relaxation, and pampering without breaking their wallet – it's without a doubt a great option! Moreover, with plenty of resorts offering unique experiences like learning how to scuba dive or discovering nearby culture and sights – these vacations provide endless ways to create lasting memories.
Finding Cheap Resorts & Hotels
When planning an all-inclusive Caribbean vacation, finding a cost-effective resort that doesn't skimp on quality is key. Comparison shopping is one of the most important components. Researching potential resorts and taking advantage of any promotional offers available can save you money in the long term. Ask about hotel prices from different vendors as rates vary from provider to provider. Also check for discounts such as senior or student discounts, or if your chosen resort allows for payment upon arrival rather than having to pay in advance.
Price isn't always indicative of quality either—many lower-priced options are able to offer amenities comparable to their pricier counterparts. The trick is that those who take the time to thoroughly review the property before booking will often find just as comfortable and enjoyable accommodations as they would in more expensive resorts while saving a considerable amount of money in the process.
Enjoying All the Conveniences of an All-Inclusive Vacation
Having access to all the amenities of an all-inclusive vacation in the Caribbean provides travelers with total convenience. Gone are the days of researching and booking multiple services, transportation, and food, which can be extremely time-consuming and often expensive. With an all-inclusive vacation package, many travelers can enjoy not only one or two services but countless experiences all at once. From admission to local attractions to recreational activities and meals, there is truly something for everyone. Plus, no need to worry about carrying cash on you as everything is charged directly to your room tab or included in the upfront price.
Moreover, no matter what kind of traveler you are – whether it's a beach lover or a culture enthusiast, or looking for a quiet getaway – you're guaranteed to find something within an all-inclusive resort that caters to your needs. Be pampered with spa treatments while others prefer to spend their evening in a hot tub or enjoying a poolside drink from the swim-up-bar. With this much convenience combined with unbeatable prices, it's easy to see why it's become so popular amongst travelers around the world.
Eating & Drinking Anywhere Anytime
All-inclusive vacations make food and drink easy. Eating and drinking everywhere and anytime is great, but others say it can lead to overindulgence. Yet, all-inclusive holiday advocates say moderation is crucial to enjoying the economic pleasure of dining and drinking at a resort.
The truth is somewhere in between. For example, you don't have to overindulge when it comes to enjoying the benefits of an all-inclusive stay – some resorts offer half portions at meal times or a mocktail option instead of alcoholic beverages. Because of this, visitors may easily customize their stays without feeling deprived. To avoid overwhelming yourself with food and drinks every day, you can also vet each restaurant beforehand to make sure you know what type of meals and drinks are offered so that no decision you make surprises you or puts you over budget.
No matter what route you choose in regard to eating and drinking on an all-inclusive vacation, your options are great, plentiful, and convenient. While the ability to have food and drinks ready whenever one desires to remove any inconvenience associated with going out, consuming on all-inclusive stays should still be done within moderation, understanding, and planning – this ensures that every adventurer will be able to responsibly enjoy the experiences available and even find room for more spontaneous adventures ahead.
Spontaneous Adventures & Fun Activities at Your Fingertips
What better way to spend a vacation than to be able to explore and experience spontaneous adventures and fun activities? With an all-inclusive vacation package, travelers are surrounded by limitless opportunities for entertaining and enriching experiences. From taking part in tennis or beach volleyball tournaments, ice skating at a nearby resort, or discovering the latest local hotspot for live music, there is something for everyone. If you are feeling particularly daring, then perhaps try snorkeling among underwater shipwrecks or scuba diving with the various aquatic life that inhabits the Caribbean Sea.
No matter what type of adventure you seek, it is available in the Caribbean thanks to its diverse range of offerings. Whether you prefer to explore nature trails, take a yoga class on the beach, or go parasailing – you won't have to worry about particular costs because it is already included in the pricing of your stay. So why not treat yourself to an exhilarating experience and make lasting memories while you're at it?
With so many destinations across the Caribbean islands – such as Barbados, Jamaica, Dominican Republic, Cuba, Antigua & Barbuda – there's an array of unexplored opportunities only waiting to be enjoyed. Therefore, an all-inclusive vacation can help make those events come alive and provide everyone with amazing, treasured moments that will last a lifetime.
Of course, if you want something quieter and more tranquil during your vacation, then spending time on the picturesque white sand beaches is worth considering as well. With crystal clear waters filled with a kaleidoscope of colors that stretch for miles along each coast – sans crowds – there's truly nothing like it! And although tempting to venture off somewhere else entirely, just one look at these gorgeous beaches and you may find yourself contentedly consumed in absolute serenity from beginning to end.
Exploring Beautiful Beaches & Islands
When it comes to exploring beautiful beaches and islands, there is no better way to enjoy a Caribbean vacation than with an all-inclusive package. Because transportation is easy to get to, travelers of all ages can enjoy all kinds of outdoor activities on both big and small islands. From snorkeling along the crystal clear waters of Barbados to the sun-soaked white sand beaches of Jamaica, the wide variety of beaches available easily fit into most travel schedules. Try horseback riding along Negril Beach or cave tubing in Belize – just two of hundreds of possibilities offered by all-inclusive packages.
In addition to transportation benefits, all-inclusive packages often give visitors exclusive access to beaches otherwise limited only to locals or those willing to pay a high price tag. Enjoy lunch at a hidden away beachfront restaurant or take part in sunset barbecues that offer tantalizing local cuisine. Afterward, wander the coastlines and discover the many landmarks each island offers – such as the iconic Piton Mountains in St. Lucia or dramatic cliff falls in Grenada.
On an all-inclusive trip, you're sure to come away with memories that will last a lifetime. Whether your idea of vacation fun is an adventurous exploration of rugged coves, relaxing days lounging on fine sand beaches, or becoming an expert on island fare, an all-inclusive Caribbean trip provides experiences all too frequently promised but not always delivered by other travel arrangements.
Relaxation & Restful Getaways
After spending the day exploring breathtaking beaches and islands, an all-inclusive vacation in the Caribbean is the perfect opportunity to relax and enjoy a restful getaway. Unwind by sipping a refreshing cocktail at the beach bar or head to the pool for some sunbathing. Many resorts also offer rejuvenating spa treatments with access to hot tubs, steam rooms, and a range of relaxation therapies. Furthermore, limits on resort amenities such as food, beverages, and entertainment put visitors' minds at ease; guests are able to spend more time being rather than doing.
It's easy to make the most out of your holiday spending when using an all-inclusive package, but even easier when knowing a few tips and tricks beforehand. Knowing what kind of experiences you want on your vacation can help you plan ahead so that every day is unforgettable without breaking your budget.
Making the Most Out of Your Holiday Spending
When considering a Caribbean getaway, budgeting for the holiday is essential. By taking an all-inclusive vacation, travelers can ensure that their entire trip is accounted for and easily enjoyed within the pre-determined budget.
From having meals cooked to delicious standards included in the price of your stay to a wide variety of activities and evening entertainment available, all-inclusive resorts offer incredible value with something to suit everyone's taste and budget. With no hidden extras or shock bills at the end of the vacation, there are plenty of ways that full-inclusive packages help travelers save money on their holiday.
By covering the cost of accommodation, meals, snacks, drinks, and adventure activities under one price point, travelers have the option to choose a hotel according to their individual needs while still ensuring they do not overspend. Also, eating out is often more expensive than cooking your own meals at home. If you choose an all-inclusive package, you can stay in and not worry about missing out on delicious meals and sweets.
Furthermore, regardless of budget size, travelers can also find hundreds of wonderful deals on all-inclusive holidays from family-friendly villas to luxurious resorts. Whether it's a package including flights or connecting ferries across islands within the Caribbean region, there is always something available for everyone when it comes to getting great value for money out of their holiday spending.
For those looking for convenience as well as a highly enjoyable time away without breaking the bank account at the end of it all; by far one of the best ways to go about this task is booking an all-inclusive Caribbean holiday package that offers great value on spending while allowing guests to take advantage of everything they wish to do during their getaway.
Vibe Getaways gives you the most personalized service to make planning the trip of your dreams a (tropical) breeze. We LOVE sharing our experience and helping our VibeGetaways/WeddingVibe community!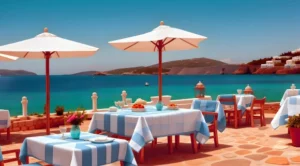 Imagine salty air tickling your senses, waves softly kissing the shoreline, and a sizzling dish prepared from just-caught seafood paired…
Read More